Here  is our first Treasure Pillow, but there are more versions coming!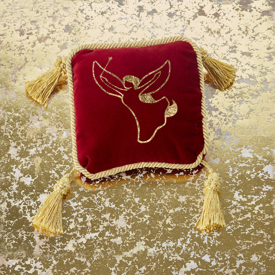 Our most elegant Treasure Pillow. Soft with golden tassels, it's irresistible to any Tooth Fairy.
Our exclusive design for a small beanbag Tooth Fairy Size pillow. It's the perfect size for holding a baby tooth and a prize from the Tooth Fairy! The little pouch has a snap to secure the baby tooth until the Tooth Fairy arrives. When not being used as a bright colored pillow for the Tooth Fairy to find, it fun to throw and catch! Beautifully embroidered in gold-colored thread for durability. (Pat. Pend.) Also available in red.
Our exclusive design for a small beanbag Tooth Fairy Size pillow. It's the perfect size for holding a baby tooth and a prize from the Tooth Fairy! The little pouch has a snap to secure the baby tooth until the Tooth Fairy arrives. When not being used as a bright colored pillow for the Tooth Fairy to find, it fun to throw and catch! Beautifully embroidered in gold-colored thread for durability. Also available in blue. (Pat. Pend.)