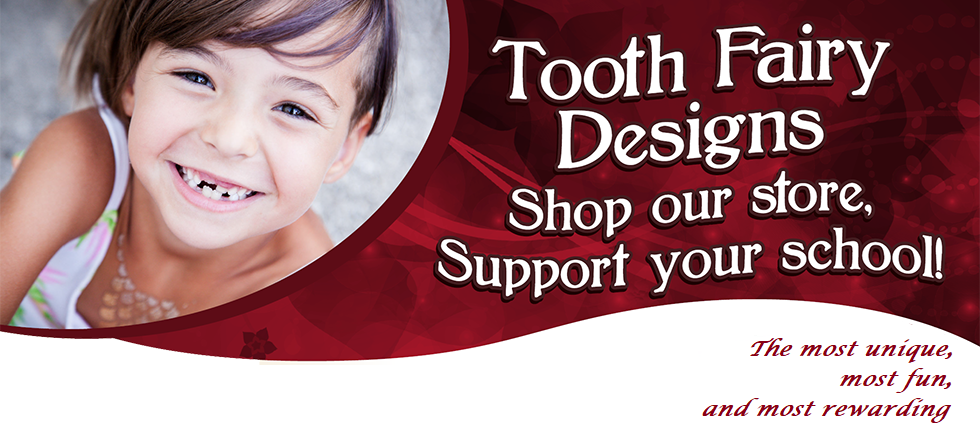 The Tooth Fairy Designs Donation Program
The Tooth Fairy Designs Donation Program is 100% effortless and risk free.  It is the newest, safest, and only unique and patented method for Elementary Schools to raise money without the hassle of having a fundraiser. With the help of letters written by the students, the Tooth Fairy will return their baby teeth to a special capsule placed under their pillow. Tooth Fairy Designs will then preserve, shape, and set the student's best baby tooth into a beautiful Sterling Silver or 14K Gold jewelry article selected by the parents.  Alternatively, parents can select birthstone pendants and charms, Desktop Keepsakes, Tooth Fairy Books, Treasure Boxes, Tooth Fairy Pillows and Treasure bags. 

Benefits

Tooth Fairy Designs' Pendants and Charms are the "Class Ring" of elementary schools.  As a donation program, PTA's and schools are not subject to any of the conventional fundraising problems.  Benefits include large revenue potential - no child/parent selling - no inventory storage or management - and nobody eats the product.  It's newer and more interesting than other products that parents can buy for less at Walmart.  Schools partnering with Tooth Fairy Designs will provide parents with a discount on the product, and will receive a significant contribution from every purchase.  While popcorn, cookies, and wrapping paper are available everywhere, there is no commercial competitor anywhere in the world for the products provided by Tooth Fairy Designs, and parents cannot buy this product from anyone else.

Take Home Announcement
Tooth Fairy Designs will provide an email for distribution to parents and guardians.  If you prefer, a one page announcement will be provided for distribution. Both include the Tooth Fairy Challange.  The Tooth Fairy Challenge is a fun and positive lesson in diversity and tolerance that classrooms may choose to complete together to raise interest.  Just give the announcements to the children to take home and you will receive a donation check within 30 days of the event. THAT'S ALL! Parents select their participating school from a list at check-out to receive a 10% discount and to direct the 30% donation to the school.

Pre-Program Promotion
Tooth Fairy Designs will provide social network ready announcements for distribution to your networks of members.

Lower Cost Options

While Tooth Fairy Designs provides custom fine jewelry, it has a product line that reaches every economic level of the elementry school community. Tooth Fairy Designs offers a selection of Tooth Fairy Gear that includes silver and pewter baby tooth boxes, a complete library of Tooth Fairy books, and a beautiful Treasure Bag that cost only $5.50.

Respect the Traditions, Customs, and Beliefs of Others
Of course, not all children believe in the Tooth Fairy – or in Magic, Santa Claus, Mermaids, the Easter Bunny, Leprechauns, Rainbows, Unicorns, Four-leaf clovers, Jack Frost, the Sandman, or even the Power of Positive Thinking. Our children bring a great many very different religious beliefs to school.  When they are adults, they will disagree on everything from music to sports, and favorite colors to politics.  Now is the time to teach them to respect the traditions, customs, and beliefs of others.  Our Tooth Fairy Challenge is a most positive promotion of respect and acceptance!

You can download our TOOTH FAIRY CHALLENGE HERE.